Alfred Health is the main provider of health services to people living in the inner south-east suburbs of Melbourne and a major provider of specialist statewide services to the people of Victoria. These services are provided across the continuum of care from ambulatory, to inpatient and home and community based services.
Alfred Health services are provided from the following three campuses – The Alfred, Caulfield and Sandringham Hospitals.
The Alfred
The Alfred's state-wide services include bone marrow, heart and lung transplantation, cystic fibrosis, burns, HIV/AIDS, haemophilia, sexual health, hyperbaric medicine and trauma services. All adult medicine specialties are offered with the exception of obstetrics and gynaecology.
The Alfred is well equipped to provide excellent training of junior physicians, having been actively involved in this over many years. The range of specialties with accredited junior medical staff positions encompasses all those recommended by the Royal Australasian College of Physicians (RACP). The tutorial program provides comprehensive preparation for the written and clinical examinations. Activities specifically directed towards professional development are gaining an increasing profile and the library is one of the best-resourced in Victoria. There is access to Up-To-Date via most hospital computers. The Division of Medicine includes a large number of consultants experienced in preparation of candidates for both written and clinical components of the RACP examination.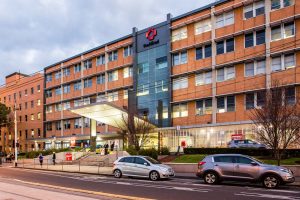 The Alfred is classified by the RACP as a Level 3 training hospital.
Alfred Health employs approximately 75 BPTs every year – 25 at each level (BPT1, BPT2 and BPT3).
BPTs rotate from Alfred Health to Frankston Hospital (2 per term), Goulburn Valley Base Hospital (2 per term), Mildura Base Hospital (4 per term), Calvary Health Care Bethlehem Neurology (1 per term) and Cabrini Hospital Malvern (1 per term).
Where possible rotations are planned to ensure that BPTs sitting FRACP exams are rotating within Alfred Health and have ready access to the FRACP program.
For more details about the Alfred Health BPT training program, go to Rotations and Training page.
Caulfield Hospital
The general medical unit at Caulfield admits patients directly from The Alfred's Emergency Department and the Rapid/Acute Assessment Unit, which is an in-patient unit at Alfred Hospital attached to the General Medical Unit. There is no Emergency Department at the Caulfield campus. It is considered that Caulfield's general medical beds function as an extension of The Alfred's General Medical Unit.
Trainees rotate on the BPT1 roster to Aged Care and Rehabilitation Medicine, and on the BPT2 and 3 rosters to Neurology-Rehabilitation, Aged Care and General Medicine at Caulfield Hospital.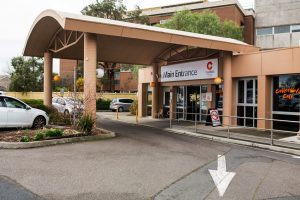 Sandringham Hospital
The general medical unit at Sandringham Hospital admits patients directly from The Sandringham Emergency Department and accepts transfers from Alfred Hospital's Emergency and General Medical Unit.
Trainees rotate on the BPT2 and BPT3 rosters to the General Medical Unit at Sandringham.
Sandringham is classified by the College as a Level 1 hospital attached to The Alfred.